And of course we want to make to ownership experience as enjoyable as possible regardless of how fast your horse is!
We believe that there are four key areas that help make your ownership experience enjoyable.
Successful racehorses that get to the races and do win!
Communication – it is imperative that you are kept informed about your horse's plans and progress.
Hassle-free ongoing administration.
A range of social functions that you have the option of participating in.
[divider type="solid"]
SUCCESSFUL RACEHORSES
Despite the flexibility in the size and style of ownership options that we can provide whenever we make a decision to keep a horse or buy a horse which we will be recommending to clients we are very conscious of trying to find horses that will race and will be successful.  Because we limit the number of horses that we select each year to an average of around ten to twelve horses under Laurel Oak management, a higher record of success can be achieved for you.
We maintain our crop-by-crop statistics once each crop reaches the end of its 3yo season because by then they should have had plenty of opportunity to get to the races and win.
In the past eleven seasons (from 2000 onwards) there were 116 horses selected or recommended for clients by Laurel Oak of which 111 have raced (95.69%).  81 of the 111 have won (72.9%) while 97 have earned prizemoney (87.39%).
All horses go through stringent physical checks from both the conformation and athleticism point of view to determine their likelihood of racing.  Further, all horses selected must also have compatible pedigrees based on analysis by Patrick Brain.  We have found over the years that this has significantly upgraded the quality of horses that we select, particularly bearing in mind that most horses selected by Laurel Oak are not expensive by current industry standards.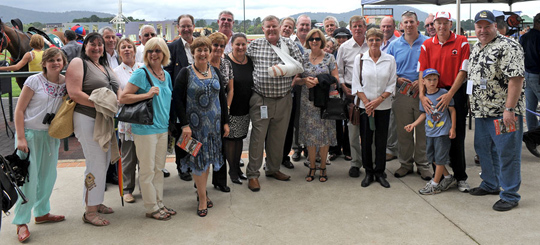 For horses selected at yearling sales they are initially selected after the leg work is done by Louis Mihalyka of Laurel Oak Bloodstock, second opinions are obtained when appropriate from the trainer who will train the horse and then the horses are pedigree analysed.  Those horses that still remain on the list and become potential purchases are then checked by a vet including x-rays if available and need to be deemed as low risk to qualify for purchase.
This strict selection process has stood the test of time with a remarkably high percentage of horses (nearly 100%) making the races, which is astonishing by normal industry standards.
Highlight horses for Laurel Oak over the years have been Georgian Gold (our first winner), Crown Joker (15 wins), Tehuacan (19 wins), Ancient Song (Gr 1 winner on VRC Derby Day), Into The Night (9 wins including two at Flemington during Cup week and invited to Hong Kong), Fist Of Fury (Gr 1 placed on VRC Derby Day), Soul Diva (11 wins and Gr 2 placed), Be Positive (Gr 3 winner), Typhoon Fury (2nd Black Opal and 10th in Golden Slipper which earned him $50k ), our last winner (wherever it is), and our next winner! City winners in 2011 have been Pink Power, Surge Draw, Eye Of The Needle and Beckon.
[divider type="solid"]
COMMUNICATION
If there is one area where we receive most compliments on it is the communication service that we provide to you.
If you are Laurel Oak owner you will receive on an ongoing basis:
Grandstand View – Laurel Oak's monthly newsletter.  With over 250 editions now this newsletter is our way of keeping you informed about Laurel Oak horses generally and other racing news that may be of general interest to you.  The newsletter also includes the 'inserts', which have trainers' horses to follow, upcoming social functions and a summary of Laurel Oak horses as well as other items of interest from time to time.  Grandstand View is also a way that we keep in touch with friends and potential clients and you are welcome to receive this without cost or obligation. Our newsletter email list is also our only complete email list and is used for general announcements to our clients.
Specific bulletins on your horse – You will also receive bulletins on your horse, which are only sent to the owners of each particular horse.  The bulletins focus on keeping you informed about the plans and progress of your horse and any administrative matters specific to your horse.  Bulletins are issued whenever there is information to communicate to you and when your horse is racing you may receive five or six bulletins per month.  Whereas, while your horse is spelling you may only receive a bulletin every four to six weeks, depending on what information there is to communicate to you.
Pre-race communication – A Laurel Oak tradition that has not changed over the years is a personal communication to you before each race start to ensure that you know that your horse is racing, what the details of the race are, what the trainer's expectations are and to organise any necessary ticketing for you. This communication can come in the form of a phone call, text or audio clip attachment to an sms.
Additional trainer communication – some of our trainers now provide additional communication including updates on each horse, web site or audio communication.
Round the clock availability – we are available if you have questions or problems virtually around the clock, although we always appreciate if owners don't ring during the night!
Overall the communication service is designed to keep you informed and entertained.
[divider type="solid"]
HASSLE-FREE ONGOING ADMINISTRATION
Laurel Oak's administration service is designed to make your ongoing administration and payment for upkeep costs hassle free.  All supplier invoices are centralised through Laurel Oak so that you only receive one invoice for all your costs rather than miniscule invoices for your share of trainer, float, vet and other service providers.
Under the Laurel Oak administration system you are invoiced quarterly in advance for the estimated costs of your horse for the upcoming quarter.  You have the option of paying quarterly or monthly as you prefer but you will only receive the one quarterly advance invoice.  Subsequently, actual costs will be accounted for and compared to the estimated with the difference being adjusted up or down with the next quarterly invoice.  This system gives you flexibility to pay within a time frame over a three-month period that best suits you.  It also ensures that each horse's bank account is liquid so that we can pay service providers promptly, which creates tremendous industry goodwill.
We also have a variety of payment options to make it as easy as possible to pay your ongoing costs.  They include cheque, cash, credit card, direct bank transfer, etc.  You also have the flexibility to pay as many months in advance as you prefer or to have your credit card charged automatically on a monthly or quarterly basis either for the invoiced amount or for a set monthly amount based on a twelve month estimate of costs.
Basically, we try and provide you with no excuse not to pay your ongoing upkeep costs by the end of any given quarter!
[divider type="solid"]
SOCIAL FUNCTIONS AND INTERNATIONAL TOURS
The Laurel Oak social calendar provides a range of social functions and tours throughout the year that you have the option of participating in to whatever extent you prefer.  These social functions or events include:
Yearling sales – you have the opportunity to join us at yearling sales, either locally or interstate.  That can involve anything from an hour or a day at the sales or a full tour to an interstate or New Zealand sale.
Stable visits – these are regularly organised to give you an opportunity to see your horses in the stable.  These are generally on Sunday mornings and the timing of them is coordinated to take place when either a certain young horse or a group of horses are in the stable at the same time.
Golf Days – Laurel Oak runs three to five golf days each year in Sydney and also a Tony-Noonan sponsored Cox Plate Eve Golf Day each year on the Friday before the Cox Plate in Melbourne. The main Sydney golf days are sponsored by Gary Portelli and are held at Castle Hill, always on Fridays. In 2011 Laurel Oak also organised at Thursday event at Twin Creeks. Whenever opportunities arise we also give our clients the opportunity to play in Industry and Charity Golf Days.
Melbourne Cup Week – Laurel Oak coordinates an annual booking in the Panorama Restaurant during Cup Week to provide clients with the opportunity to watch the Carnival racing from a prime under-cover viewing position in a restaurant that provides sanctuary from the crowds while being well-watered and well-fed.
Cup Week Events – two Cup Week traditions now are the After-Derby stable visit at Tony Noonan's, which is the biggest and best catered-for stable visit on the Laurel Oak calendar on the Sunday morning after Derby Day.  This is followed by Mornington Races as an optional kick-on and there is also the option of a coach from Melbourne to the stable visit returning after the races.  The next day Laurel Oak coordinates a booking at the Call Of The Card at Crown Casino, which is proving to be a very popular annual event to whet the appetite for the next day's Melbourne Cup.
Cox Plate Tour – there is also an annual Cox Plate Tour, part of which Laurel Oak coordinates a booking in a Moonee Valley restaurant which will include reserved seating that gives you the best opportunity to savour the atmosphere as legends are being made.
Black Opal Tour – the annual Black Opal Tour to Canberra's feature race meeting is a long-standing tradition since a first-crop Laurel Oak horse was a runner in the Black Opal ridden by a very young Darren Beadman.
Tony Noonan's Greendale Ball – Tony Noonan's annual Greendale Ball is a major highlight each year.  Held at Crown Casino, it is such an enjoyable gala occasion that rival trainers now are invited and come along!
NSW Annual ROA Awards Night Of Champions – this gala black tie event is very popular with Laurel Oak owners and we always organise a table or two for clients.
NSW ROA Raceday and other functions – NSW Racehorse Owners Association organises a very enjoyable raceday at Randwick during the Easter Carnival we always organise a number of tables. Excellent catering and the facilities make for a very enjoyable day at the races. Laurel Oak also supports other NSWROA social functions.
Other Raceday functions – as opportunities arise we also coordinate other raceday functions including open terraces, private boxes, charity racedays etc.
New Zealand Stud Tour – every one or two years we organise a tour of New Zealand studs hosted by Tony Noonan.  We enjoy the hospitality of various studs, see some famous stallions, check on any yearling purchases, mare or foals that we have there and usually wind up on Lake Taupo for a spot of fishing as well.
Hong Kong International Tour – after being blown away by the experience of Hong Kong International Races, courtesy of Into The Night's invitation in 2003, we have since coordinated four tours to this great meeting and this is now an annual or bi-annual event. In 2010 we extended the tour to include golf at Mission Hills and we plan to do this again in the future.
Royal Ascot and other International Tours – 2012 will be the fourth time we takes clients to enjoy the grandeur and splendour of Royal Ascot. The Royal Ascot portion is usually built in to other racing-related activities as well as good blend of free time to do your own things. The organised events include stud and training centre tours, and other racing which has included the Irish Derby, Windsor, Tipperary, Hamilton and racing in Paris at Chantilly, Longchamp and Maisons-Laffitte. Past tours have also gone to the Japan Cup and USA while other new destinations are planned for the future.
As well there is the usual round of impromptu events, celebrations or dinners that may occur from time to time.  All in the cause of having a good time!  Hopefully the above provides you with the reasons why Laurel Oak can make your racehorse ownership experience easy and enjoyable.
Information on all social events is only circulated to Laurel Oak clients.