Anaphora Charges Through A Gap For Victory
Despite the small field of just six runners, apprentice Jye McNeil struck peak hour traffic aboard Anaphora by running in dead ends throughout the Caulfield straight. But with the post looming, the flashy chestnut burst through the smallest of gaps to pinch a last stride victory for Mornington-based trainer Tony Noonan.
So disastrous did the situation appear, stable representative Jack Turnbull was forewarned he was being broadcast live on national television when asked for his thoughts on the final 100m.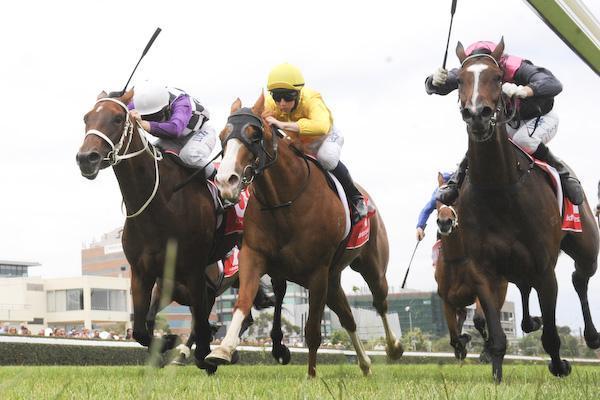 "She just kept running into traffic that I didn't think she was even going to run a place," Turnbull said.
But when the photo finish flashed up on the big screen, the mounting yard erupted into cheers of jubilation for the large ownership group managed by stable client Laurel Oak Bloodstock.
"It's great to have so many owners on course today.
"Most of them have been with us for a long time but there's a few new faces. It's just great to see so many people have a good day at the races."
Settling towards the tail of the field, the 4-year-old Dylan Thomas mare traveled kindly for McNeil who had the benefit of galloping the mare earlier in the week.
As the small field bunched upon straightening, McNeil looked to shift to the outside before being boxed in by Yellen.
Switching back to the inside, McNeil's inside gap closed as Defrost My Heart shifted in but with further persistence, Anaphora bullocked her way through the small gap.
Running out of tarmac with the post approaching, McNeil gave himself just 30m to run down the leader once in the clear with Anaphora ($2.80F) charging late with her head down and ears pricked to claim victory in the three-way go from Yellen ($3.10) and Prepee ($26) in third.
The third win of Anaphora's career took her earnings beyond $150,000.
Congratulations to owners Grant Bloodstock Pty Ltd Synd, Laurel Oak Bloodstock Pty Ltd Synd, Four Up Synd, A Fitzgerald, Club Number One Synd, P & Mrs J Macbeth, M Mannix, R Spargo, P Atley, B Marotta, R Lloyd, D Russell, Miss E Morrissey and Mrs E Grant.
News courtesy of Tony Noonan Racing