MAGNUS OPUS IN TUNE
Wow! Another year gone! As commented about a year ago, the sales catalogues have arrived, Christmas is looming large, and the cycle of yearling sales, racing carnivals and social functions starts all over again, and before we know it, we will be back here preparing for Christmas 2014.
But each year has so many challenges and so much enjoyment that all we can do is look forward to it, embrace it, enjoy it, and hope that we all stay healthy and can enjoy many more of them.
And nothing makes a year more enjoyable than winners. In 2013, REBEL DANE was obviously the Laurel Oak star, taking us to Group 1-winning heights that we have not enjoyed for ten years. He contested several Group 1 races, won at Group 1, 2 and 3 levels, while his best performance of all may even have been running a close second to Pierro at Group 2 level.
There were also plenty of winners amongst the support team, although not as many perhaps as in some of our recent years. But the signs are good that most of the Laurel Oak team will be winning in 2014.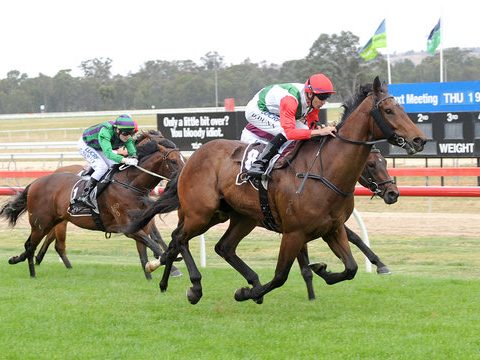 Leading the charge in that regard was MAGNUS OPUS. The giant 3yo Magnus gelding debuted at Seymour at the end of November with a very impressive victory. Trainer Tony Noonan thought that he would likely need the education, and that the tight circuit over 1100m would be too short for him. However, after getting back early, he tracked into the race very well approaching the corner under Dwayne Dunn's guidance, and then let loose in the straight for an impressive win.
Tony has given him a few quiet weeks with a view to bringing him back for a VOBIS Gold race at Caulfield on 4 January, followed by a 3yo race at Flemington over 1400m on 18 January.
Magnus Opus was our first exposure to VOBIS Gold and we are certainly impressed. The 3yo maiden win at Seymour yielded not just the $10,500 normal first prizemoney, and not just the $4,900 winning owners' Super VOBIS bonus, but also a VOBIS Gold bonus, which was $14,000 to the winner. That resulted in an extremely healthy first prize of $29,400 gross (before jockey/trainer deductions) for a maiden win.
Magnus Opus, for a big, growing horse, showed great natural aptitude through his early 2yo training, and looked like he may defy his physical size by getting to the races early. However, in January he required a wind operation which set him back timing-wise. While the wind operation itself was successful, the extra time out no doubt gave him the time he needed to physically mature and furnish into a racehorse. The fact that he is still learning indicates that there is genuine upside to him.
Ironically Magnus Opus was bred by Peter Moody to a Brain-recommended mating and we bought him from the second session of the Melbourne Premier Yearling Sale for $35,000 plus GST. He is the reverse of the Black Caviar mating as his sire, Magnus, is out of Black Caviar's female line, while his dam, McCune, is by Bel Esprit, the sire of Black Caviar. The pedigrees of both Black Caviar and Magnus Opus contain close-up linebreeding to Vain, which has likely injected some speed into both pedigrees, no doubt more into the great mare's pedigree!