Rebel Dane too good for rivals in The Shorts
In an era where the red carpet is rolled out for any colt within a breath of a group 1 win, how refreshing for a six-year-old stallion to still be on the track.
In truth, Rebel Dane has been all dressed up as a group 1 winner for two years now. It is just that no one has really wanted to come to his party. At least not recently.
"We've had enquiries, but we've never had a firm offer for him," shrugged managing part-owner Louis Mihalyka. "Just at the time he would have been ideal for going to stud he stopped winning.
"While he has been running thirds and fourths in group 1 races, he hasn't won a race since the Rupert Clarke two years ago. With that the interest and enquiries stopped.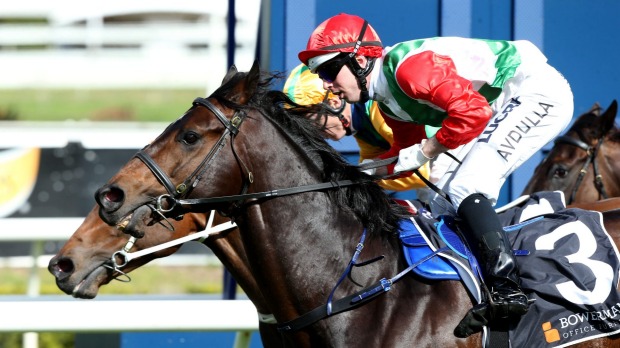 "A couple of agents said when you retire him let us know and we had a few interested parties in May or June and they all dropped off. Now we just thought we're going to enjoy him and let what will be be basically."
Small and scrawny, with a breathing problem now amended, you can't blame studmasters from shying away from Rebel Dane. But if there was ever an advertisement for his niche market post-racing days, The Shorts at Randwick on Saturday was it.
"I would have been a bit disappointed if he got beat today, to tell you the truth," trainer Gary Portelli said after Brenton Avdulla lifted Rebel Dane to a last-stride win from Ball Of Muscle in the group 2 sprint.
"I hadn't said it out loud, but I couldn't see how these horses were going to beat him if he came back. He's the only group 1 horse in the race and his qualifications have him [racing well] against the top group 1 horses."
Which is exactly the same path Rebel Dane will plot this spring, en route to another Manikato Stakes showdown with Chautauqua and Terravista, a race-day scratching from The Shorts due to a waterlogged track.
It left Shiraz an overwhelming favourite at Randwick, but Tony McEvoy's emerging sprinter laboured a little in third as Rebel Dane mowed down Ball Of Muscle to score by a half-head, showing no ill-effects from a recent throat operation.
"My legs are like jelly," Portelli said. "When he was racing as a three-year-old he was 440 [kilograms]. He's come a long way physically and looking at him I thought he might have even been a bit big, but that's what we needed for 1100 [metres]. It was a lot easier to saddle him [today] – he didn't try to kill us as badly as what he usually does."
Avdulla had no qualms when overnight rain on Friday plunged the Randwick track into the heavy range before an upgrade earlier in the day.
"Doing his form and tapes [Friday] night and [Saturday] morning, he has had two goes on heavy tracks, he was beaten by Pierro one time and the other one was behind Lankan Rupee in the TJ Smith," Avdulla said.
Joe Pride was forced to replace the three little letters he likes to attach to the Terravista name, "WBS", with "SCR" on Saturday, but would have been forgiven for thinking it didn't matter as Ball Of Muscle shot clear close to home.
"He's never missed a place and he always run a good race," he said. "We'll go to the Moir because it's the right race at the right distance."