REBEL RESUMES WITH AN IMPRESSIVE SHOW
After announcing his class in the Autumn with victory in the Group Two Royal Sovereign Stakes, as well as having finished a short head second to Champion Pierro in the Group Two Hobartville Stakes, Rebel Dane resumed on August 24 at Warwick Farm off the back of an easy barrier trial victory a month prior.
Contesting the Group Three Show County Quality, jockey Glen Boss, who had made a commitment to partner the colt throughout his campaign, jumped the four-year-old away fairly from the gates to settle in a mid-filed position.
With a good pace set up front by the Corumbene Stud-raced Ichihara, Boss bided his time until the colt was balanced and ready to assert his authority.
About six lengths off the lead half way through the race, Boss pushed the exciting Gary Portelli-trained runner wide when the field rounded the home turn and he sprinted with ease, pulling away to record a classy one-and-a-quarter length victory from Title and the Group One winner Norzita.
The elation from all concerned was quite evident after the victory, but none more so than from the exciting colt's trainer.
"This is what you train racehorses for," Portelli said.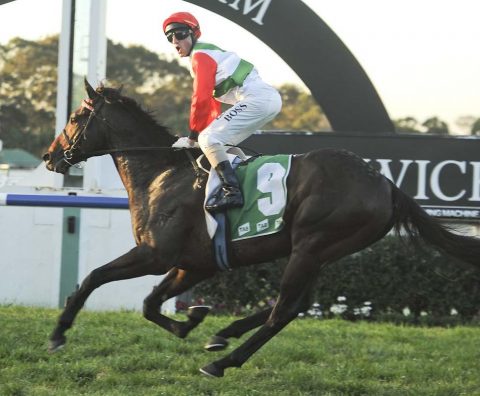 "You get up at 3am every morning trying to find that good horse.
"I've had some nice horses over the years but this one might be something special."
"It's relief because you want to see them return and win like that," Portelli said.
"But it is also excitement because he's only a young horse and still lightly raced.
"No doubt he is starting to put the runs on the board now but every step from here on will be tougher for him.
"It is so easy to wrap a horse because everyone has the dream of training that really good horse but this bloke might realise that dream for us."
Leading jockey Glen Boss was also highly impressed with the colt, riding him for the first time under race conditions.
"Gee, he gives you a feel this horse," Boss said.

"I didn't get anywhere near the bottom of him today. I gave him a couple of back-handers at the top of the straight and let him coast to the line.
"He's a push-button horse with a great turn of foot. His win was arrogant."
Portelli said it gave him added confidence when an authority such as Boss talked in such glowing terms about Rebel Dane.
"It just reaffirms what we always hoped we've got with this horse," Portelli said.
"You think you have one that is really good but when blokes like 'Bossy', who ride top horse all the time, tell you the horse is very good, it is what you want to hear."
With a large group of owners on hand to witness Rebel Dane's second stakes victory, Laurel Oak would like to not only congratulate the owners, trainer Gary Portelli and jockey Glen Boss, but also the syndicate the bred and raced his dam Texarcana.
By More Than Ready, Texarcana has a two-year-old Bernadini filly, a Rothesay yearling colt and has a filly foal by Zoffany.