Warinda and Crusader General Salute At Canberra
The Keith Dryden-trained duo, WARINDA and CRUSADER GENERAL, were both poking along in reasonable form in their own grade in February, when the decision was made to target them both for the Country Championships Qualifier at Goulburn late in March, which we hoped would flow on to a run in the Country Championships at Randwick during The Championships.
Both horses fell short in that ambitious program, so we "resumed normal programs" with both of them.
With Warinda we established at the end of last preparation that 1600m seemed his ideal distance. However with the distraction of The Championships over 1400m, we kept him at shorter distances for longer than we otherwise would have. Once we had moved on from that plan, he ran a fast-finishing fourth over 1600m in a strong race at Goulburn, and the decision was made to try him over 2000m. That didn't work at all, as he pulled too hard in the slow tempo, and didn't finish off.
Back to 1600m in Canberra for what was only his third attempt at his "best distance", at his 20th career start, jockey Brendan Ward had him perfectly placed and travelling sweetly on the fence behind the leaders. When he got into clear running 300m from home, Warinda quickly joined the leaders and had the race in his keeping to come away for a comfortable 1.5 length win. With two wins and a good fourth now at that distance, we will certainly be sticking to it, and there is a chance that he may back up into another 1600m race at Wagga this coming Thursday, 30 April.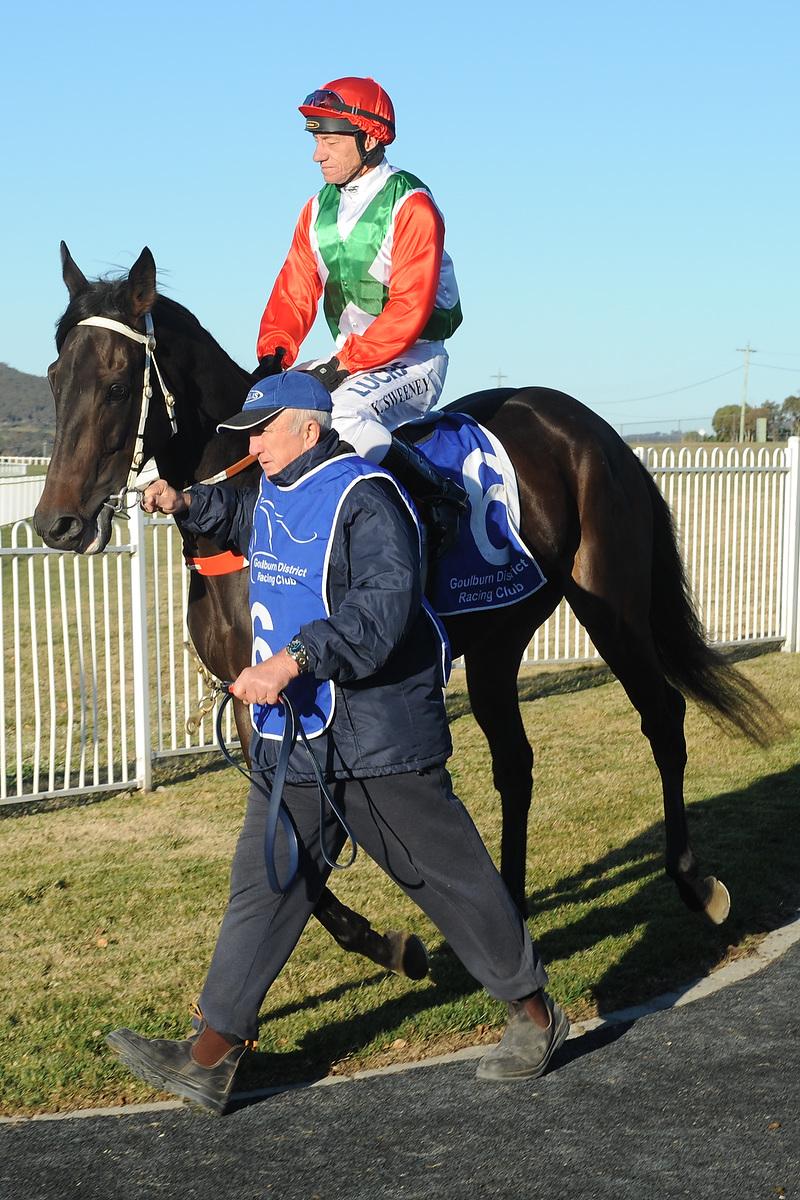 Meanwhile Crusader General was going for the Laurel Oak double two races later. Once he had moved on from The Championships objective, he won his next start in Canberra on Golden Slipper Day. Then a poorly-judged ride saw him finish well back in Canberra two weeks later, before having another go over 1400m last Friday.
With his drawing wide in the small six-horse field, jockey Kathy O'Hara's instructions were to get cover, and the only way she could do that was to go back to last. In a clever piece of riding, Kathy cut the corner as they turned for home to go underneath two horses rather than around them. However she was still three lengths off the leaders and not coming quickly enough. Fortunately Crusader General stoked up under Kathy's riding, and was flying at the finish.
With three horses across the track in front of him, with about fifty to go he was most likely going to finish either first or fourth, but  more likely the latter. Thankfully he really motored in the last 50m and arrived in time to score a long-neck win in a four-way finish, to make it two wins from his last three starts.
As we reported on his previous victory in last month's edition of Grandstand View, getting him back to winning form was very satisfying for everyone concerned, as he was coming back from a double knee injury that had him off the scene for eighteen months.
Keith will now look for another suitable race for him.
The double took Keith to a five-win lead in the local trainers premiership, with three meetings to go to the end of the season, so we hope he can hang on to win another premiership. It has been a great season for Keith, as his main opposition in Canberra includes talented young trainers, Nick Olive and Matt Dale, and the strong Barbara Joseph stable, all of whom have good-sized racing teams.
News From Grandstand View